DAR AL MIRAAJ A UNIQUE OASIS OF TRANQUILITY IN THE HEART OF THE MEDINA OF RABAT

If you are looking for a place that will be more of a retreat than a hotel, then Dar Al Miraaj is the perfect choice
Dar Al Miraaj is not a usual guesthouse but a real traditional Moroccan family house that offers a relax and informal  atmosphere in an authentic and cosy environment. The house is an oasis with a quiet courtyard with a marble central fountain and a beautiful rooftop gardin overlooking the old medina.
Dar Al Miraaj is richly decorated with colourful zelliges, intricate ornamental tile work, cedar wood, carved plasters, hand-painted woods. Everywhere Copper lanterns and ornate shade suspension from the high ceiling, and antique furnitures are presented at every turn of the house.
The house has been renovated with love and dedication. Preserving the house style and historic patterns were at the very center of the renovation philosophy of Dar Al Miraaj -  After five years of meticulous renovation scrupulously respecting the Islamic architectural codes of symmetry and harmony, the owner helped with a team of dedicated craftsmen of the medina and managed by Mr. Achraf Kennoussi, successfully achieved the renovation in the first quarter of 2023.
Dar Al Miraaj is a non-smoking guesthouse and alcohol beverage is not served in the guesthouse pubic area, accordingly our guests have the choice to buy outside the premise as per their wish for their personal use.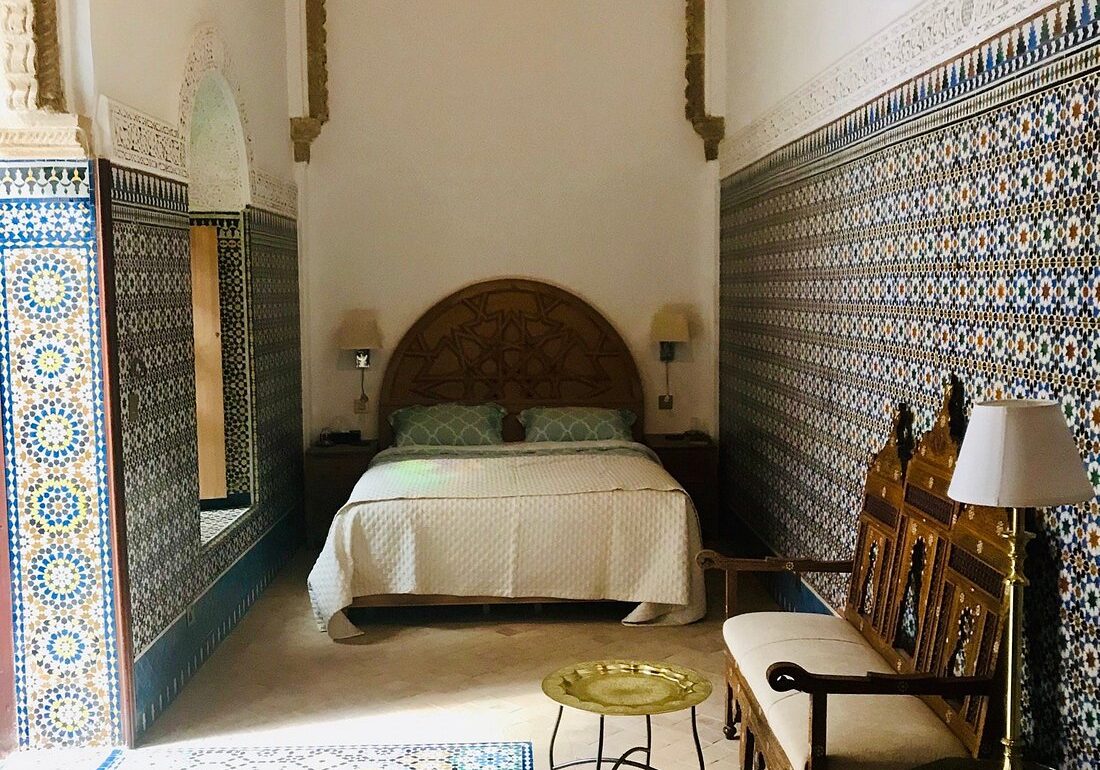 ACCOMODATION
Each of the eleven rooms has its own distinctive character with the finest handmade furnitures and beautiful fabrics. The rooms are all equipped with IP telephones, high speed internet access and a wifi throughout  the property. In the bathroom the Italian shower made entirely of marble will relaxe you in a peaceful and quiet environment.
FESTIVE BREAKFAST
Not a single day passes at Dar Al Miraaj without starting by a generous but healthy breakfast. Savour the Moroccan or intercontinental breakfast while reading your newspaper or consulting online your favorite website or reading your emails. If you have any special request our team will be delighted to serve you diligently
BUSINESS CENTER
The meeting room can accomodate up to 8 guests and is equiped with an audio and video system
Computers with multifunction printers are available to all guests.
The fiber optic is deployed throughout the dar providing high speed wifi and internet services in a discreet and effective way
HAMMAM & WELLNESS
A must-do when visiting Rabat: By releasing the tension in your muscles through the cleansing and massaging of the full body, the traditional Moroccan hammam offers a unique relaxing and therapeutic experience that will offer you so many benefits for the mind, body, and soul.
ROOFTOP SUN-TERRACES
For a unique for a natural Rabat-at-your-feet feeling.; head to our rooftop for a secret garden escape surrounded by  terracotta pottery, trees, aromatic herbs, and relax on the lounge chairs and sofa.
The sunbathing terrace also has pleinty of sun Loungers to enjoy a relaxed atmosphere at Dar Al Miraaj having your afternoon drinks and relaxing.
MOROCCAN LIBRARY
Most of the books available in the Moroccan library are in French, dating from the early twentieth century during the French protectorate over Morocco between 1912 and 1956.
An interesting selection of old books about Morocco writen in English by travelers are also available.
LIMOUSINE SERVICES
Whether you're on your way from the airport or to an important business meeting or even exploring the historic sights of Rabat our limousine service allows you to travel in the most comfortable way. Our chauffeur Driven Mercedes Benz V Class can accommodate 7 persons.
For booking your airport transfer trip you can contact us via email or call us directly.